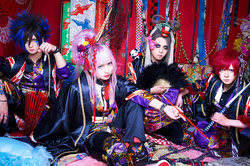 ACME
Band
Japan
Biography:
ACME is a visual kei band that formed in summer of 2017. The band line up consists of former DIV vocalist CHISA and guitarist SHOGO, former ARTEMA drummer HAL, and bassist RIKITO. Well known for their post-hardcore sound and colorful "oshare" style visuals, ACME are the hottest newcomers to the visual kei scene.

ACME, having already toured across Japan, are currently on their first solo nationwide tour. Earlier this year, they had some major accomplishments as a band. In March 2018, the band released the track "CALL MY NAME" for the film "Namae no Nai Onna Tachi: Usotsuki Onna". In August, ACME released their first full album "Zesshou Ouka" which is streaming worldwide on Apple Music, Spotify, and more.

In addition, CHISA is prominent in the Japanese fashion scene. At Anime Expo 2018, CHISA walked the AX Fashion Show runway for Harajuku fashion designers KINGLYMASK, LISTEN FLAVOR, and HYPER CORE.
Anime Convention Guest Appearances