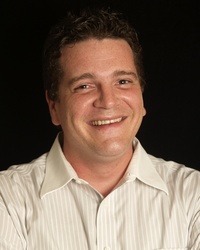 Chris Rager
Voice Actor
Texas, USA
Biography:
Chris Rager is an American voice actor for Funimation studios. More notable performances are as Mr. Satan, King Yemma, and Hercule on "Dragonball Z", as well as, Arlong the leader of the fish people on the popular "One Piece".

Chris has been seen in national and regional T.V. commercial ads like Taco Bell, Southwest Airlines and Visa. You may also see Chris performing live on stage in Dallas with Section 8 Comedy Troupe for the last 11 years where they perform Improv, sketch and musical comedy.

Although he loves the live stage and T.V. exposure, Chris holds voice acting close to his heart. You may have also heard Chris in Animes such as Blue Gender, Case Closed, Black Cat, Desert Punk, Lupin III, Full Metal Alchemist, Yu Yu Hakusho, Samuri 7 and Sgt. Frog.

Chris has also been heard in such video games Spike out: Battle Street, Stuntman Ignition, Bloodrayne, Roadkill and many others. Chris always looks forwards to his next voice over role, hoping he can bring a high level of talent and professionalism to such characters.
Anime Convention Guest Appearances
2023
2022
2020
2019
2018
2017
2016
2015
2014
2013
2012
2011
2010
2003

64 confirmed guest appearances
View Chris Rager on FanCons.com for 21 additional guest appearances