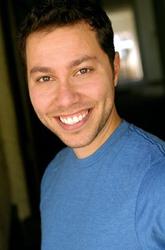 Sam Riegel
Actor / ADR Director
Los Angeles, CA, USA
Biography:
Sam Riegel is a veteran voice actor, writer and voice director of cartoons, video games and anime series. Notable animation roles include Donatello in the 2003 Teenage Mutant Ninja Turtles, Emperor Awesome on Wander Over Yonder, Shiro Emiya in Fate/Stay Night, Viral in Gurren Lagann, Mephisto in Blue Exorcist, and Metal Bat in One Punch Man.

Video game characters include Peter Parker/Spiderman in The Amazing Spiderman games, Starscream in Transformers War for Cybertron & Fall of Cybertron, Teddie in the Persona series, Chris Haversam in Fallout New Vegas, Zed in Ratchet & Clank, roles in Last of Us, World of Final Fantasy, Uncharted 4, Shadow of Mordor, and everyone's favorite attorney, Phoenix Wright.

Sam also serves as voice director for Disney's DuckTales, Sofia The First, Pickle & Peanut, Elena of Avalor, and Fancy Nancy, as well as Danger & Eggs for Amazon and Unikitty! for Cartoon Network.

Sam occasionally co-hosts a drunken podcast with Liam O'Brien called All Work No Play. You can also find him every Thursday on Critical Role, where a group of nerdy-ass voice actors play D&D for an audience of millions. You can catch his exploits with Vox Machina as the gnome bard, Scanlan Shorthalt - or with the Mighty Nein as Nott the Brave, the goblin rogue.
Anime Convention Guest Appearances
2018
2017
2016
2014
2013
2011
2008
2007
2005

12 confirmed guest appearances
View Sam Riegel on FanCons.com for 11 additional guest appearances